October 2020
Zeitungsbericht Sonntagszeitung
October 2015
Welcome!
We're pleased about our new trainees Erijon Kaba (le) and Dimitri Bosshard (ri)
and wish both a exciting education and pleasure on the trade as a painter!

May 2015
Certified project manager for business management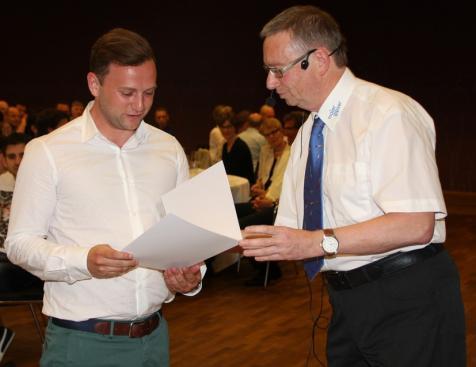 We congratulate Gazmend Isufi who obtained this title and are pleased, his business administration and craftmanship capabilities will be of great use in our team.
Mr. Isufi continued educatin and training as project manager after his apprenticeship as a painter at Maler Huwiler AG, expressing his knowledge with great pleasure.
We wish him success and satisfaction at his new demanding task.
January 2015
20 Years Maler Huwiler AG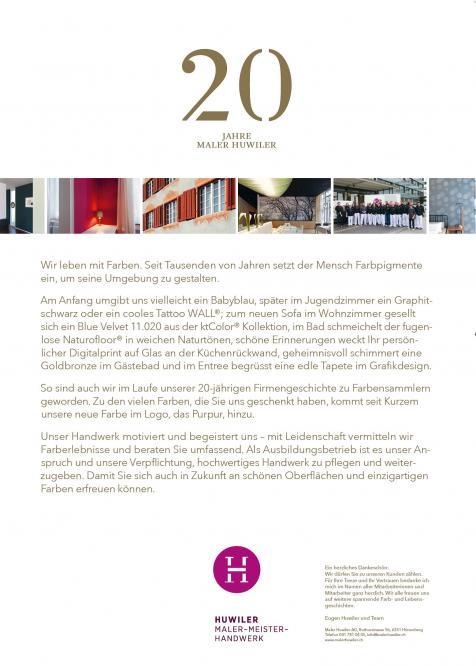 July 2014
Apprentices 2014
Both Fabrice Ineichen from Alikon and Domenik Müller from Cham have successfully completed ther apprenticeship.
Fabrice finished his three year apprenticeship with outstanding results, Domenik acquired his knowledge with a two year apprenticeship resulting in superb notes
We congratuate both on their behalf, showing interest in our profession wishing them the best for their future.
June 2014
20 years Maler Huwiler AG
Maler Huwiler AG celebrated it's 20th anniversary with a three day trip in and around Venice
We thank the whole staff for their reliable and motivated commitment throughout the years, looking forward to many years to come...
April 2014
HünA - Commercial exhibition in Hünenberg
We took the opportunity to represent our company at the commercial exhibition from the 4th of April till the 6th of April at the HünA in the Heinrich Saal in Hünenberg.
We thank all customers, suppliers and visitors interested in our trade for all the discussions we had during this time.
July 2013
Excellent final exams as painters
Michael Stettler, Sandra Halter, Labinot Kaba, three young trainees at Maler Huwiler AG have successfully mastered their Aprrenticeship as painters, with Sandra Halter acheiving the second best grade results for the 2013 period at the GBZ school in Goldau.
We congratulate Sandra Halter from Muri, Michael Stettler from Rotkreuz and Labinot Kaba from Hünenberg for the completion of their apprenticeship with outstanding grades, wishing them a successfull start in their new career.
May 2013
New Design
After 20 years, Maler Huwiler AG is undergoing a facelift with a new design and colors.
As Eugen Huwiler says: «As painters, we should be able to and must change colors once in a while.» He is enthusiastic about the newly designed appearance, the concept coming from Peyer & Zorzenone which fits perfectly in todays modern business world.
March 2013
1th place in Apprentice competition 2013
The 2013 Apprenticeship competition with approx 83 competitiors from central Switzerland, which focuses on the young contestants skills was won by Fabrice Ineichen in his 2nd year at Maler Huwiler AG.
He invested over 120 hours in his highly detailed cube.
We congratulate Fabrice on his excellent work!